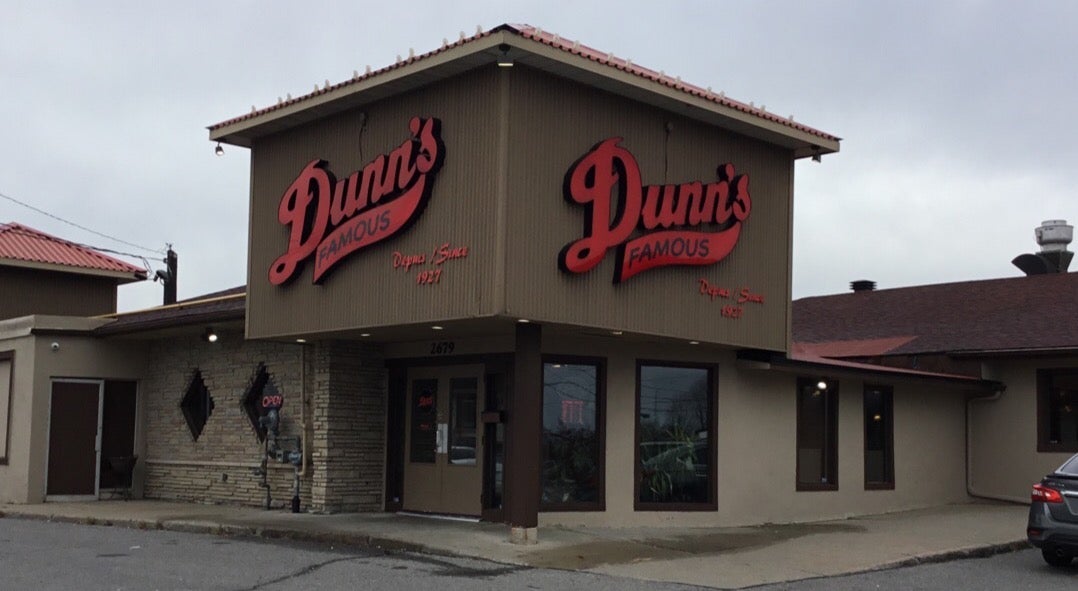 Going out for breakfast is a daily ritual for me.
Some days I share the meal with friends. Often I go solo and enjoy some peace before my busy day begins. I decided to review the local breakfast scene in a weekly blog, mixing old favourites with new finds. The places are never perfect, but each one offers something unique.
To keep an even playing field from week to week, I will always order the same breakfast; two medium poached eggs, well-done sausages, potatoes, rye toast and coffee.
I recently visited Dunn's at 2679 Bank Street in Ottawa. They are best known for their smoked meat sandwiches and other deli food.  I went on a weekday and found it quite empty. With only a few customers one would expect top-notch service, but that was not the case. The first thing I do when dining solo is log onto the wifi and read the newspaper online.  Internet access was so slow I felt like I'd entered a time warp and emerged in 2005. The little wheel just kept spinning without loading a single page. 
————————————————————————————————————————————————————————-——
I CAME BACK JULY 31st 2019, the service is still very bad, food was terrible, poached eggs tasted like they were boiled in vinegar, deep fried potatoes were stone cold and the INTERNET is so slow I could not pull up any pages.  These are people who just don't care about customers.
——————————————————————————————————————————————————————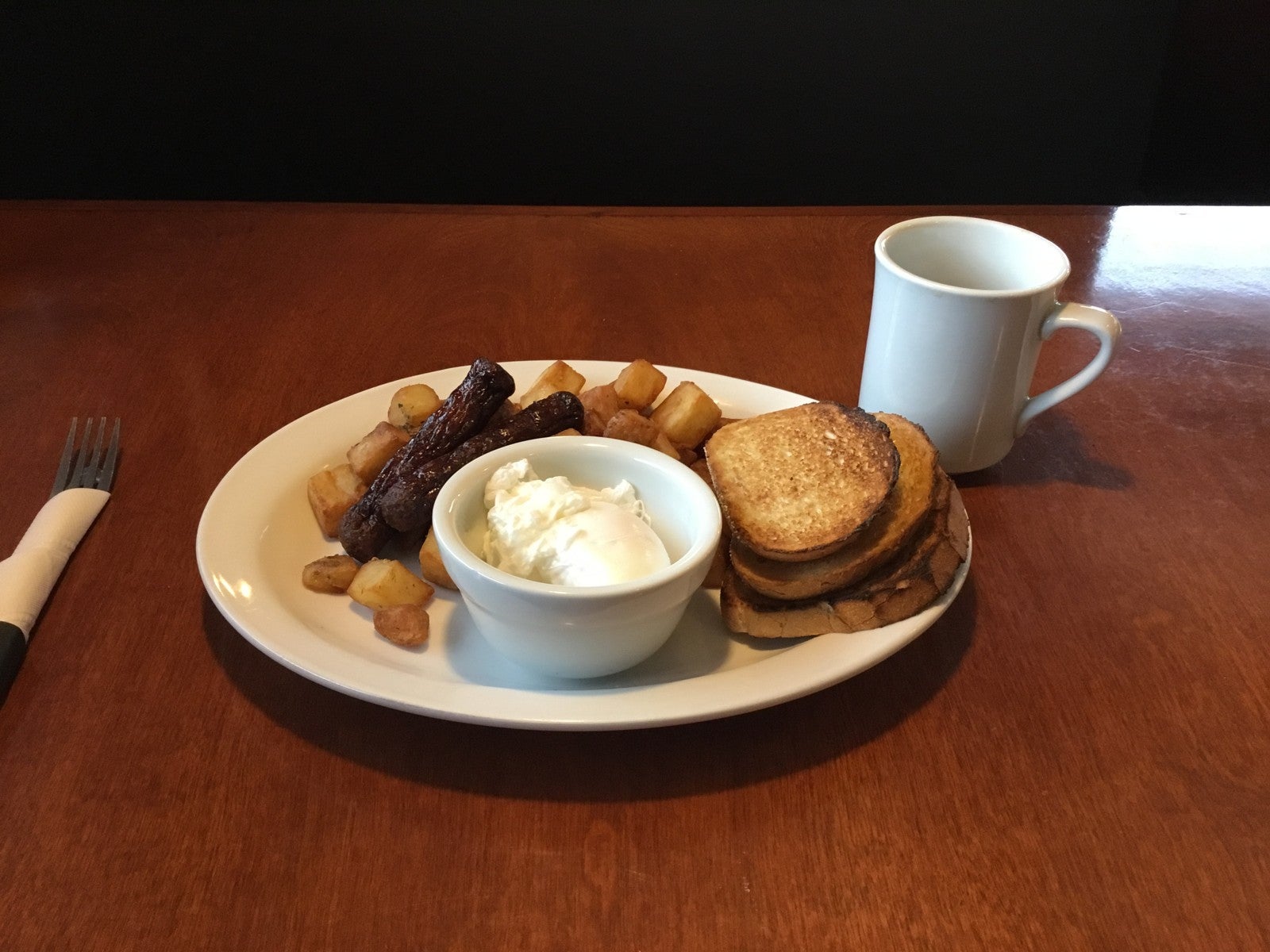 Although my server came quickly, he did not engage in small talk or pleasantries – not even a hello.
I ordered my regular breakfast. The poached eggs were edible but undercooked. The sausage was overcooked but I'd asked for well done so I couldn't complain.
The potatoes were deep fried and the toast was fine. They even gave me an extra piece to make up for the small size of the other two.
Refills on the coffee were elusive as my server never returned. I had to wave down other servers working the room.
This was a comfortable place, large booths with loads of space.  The washroom sparkled and everything was very clean.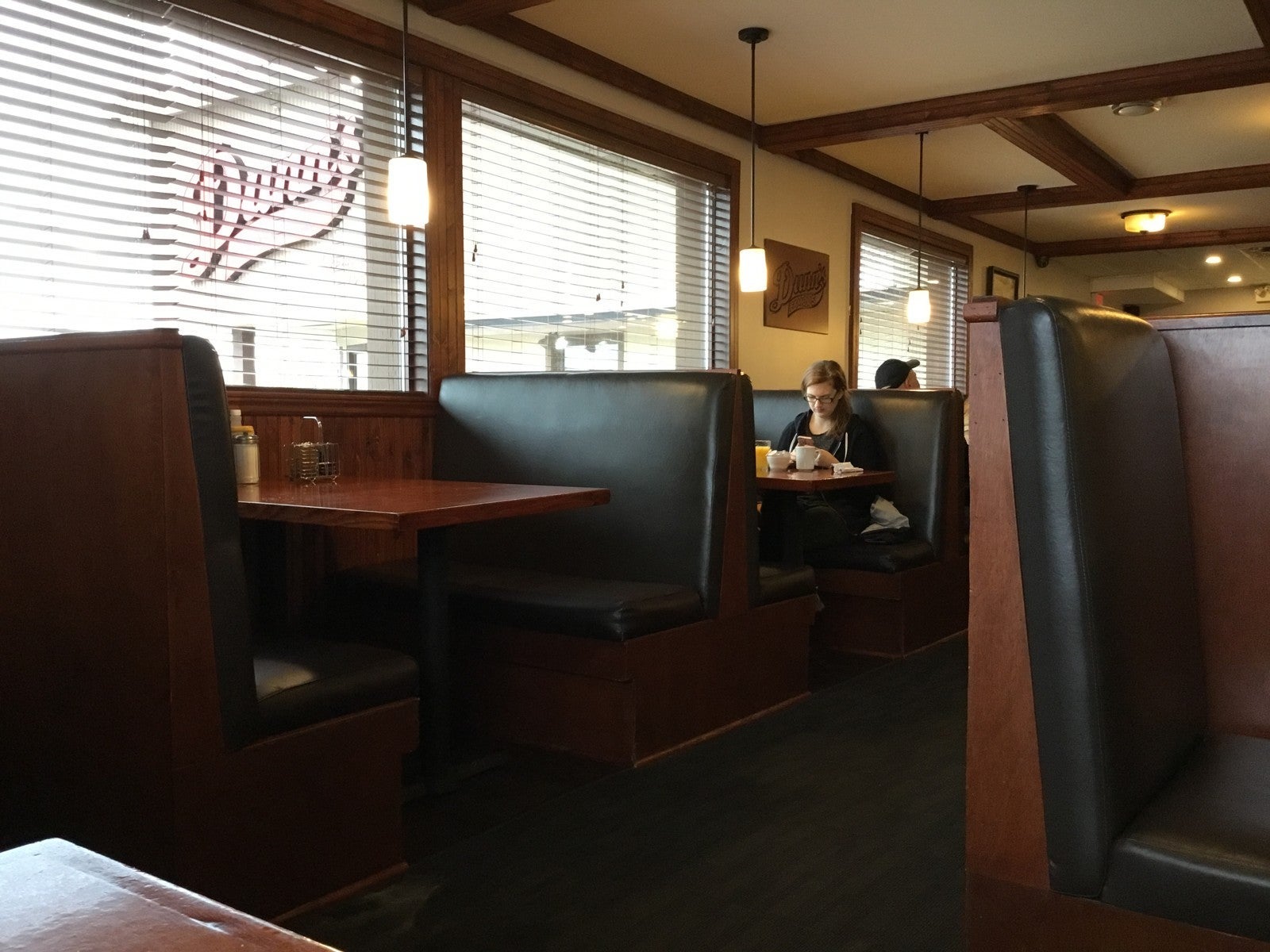 Their breakfast menu was extensive. Choices ranged from Steak and Eggs for $17.95 to three different Scrambler Poutines . . .  The Original Scrambler and the Veggie Scrambler for $13.95 and the Meat Lover Scrambler for $14.95. They also had many healthy options including the Fruit and Granola for $9.95 and the Oatmeal, toast and fruit cup for $9.00.
Here's a heart-healthy choice . . . , a Belgian waffle topped with three fried eggs for $14.95.
When it was time to leave I waived down my server and asked for the bill. Five minutes later he returned with the bill but no debit machine.  Five more minutes went by and I gave up waiting.  He saw me standing at the front counter with my debit card and advised that I was not his only customer. At that point another server processed my payment. At that moment I was deciding whether to leave a 1 per cent tip or a 15 per cent tip. I gave him the benefit of the doubt and left 15 per cent.  When you work for tips you shouldn't get nasty with the customer just before he pays.


The total bill was $10.38 including tax and tip.  But while the breakfast was alright, the rudeness of the server left a bad taste in my mouth.
Let's rate Dunn's on Bank Street
Service: 5 - new score..... 3
Coffee: 5 (hard to get refills) 
Food: 7 - new score..... 5
Overall Score = 7.2 out of 10... don't bother coming here things are getting worse.
I recommend that you give Dunn's on Bank Street a pass for breakfast. The service was terrible and the potatoes were ice cold!